All ministry Facebook pages should comply with guidelines below. To download nationally designed headers and profile photos, go to our downloads page or click here. To design your own, please follow logo guidelines in this Style Guide.
---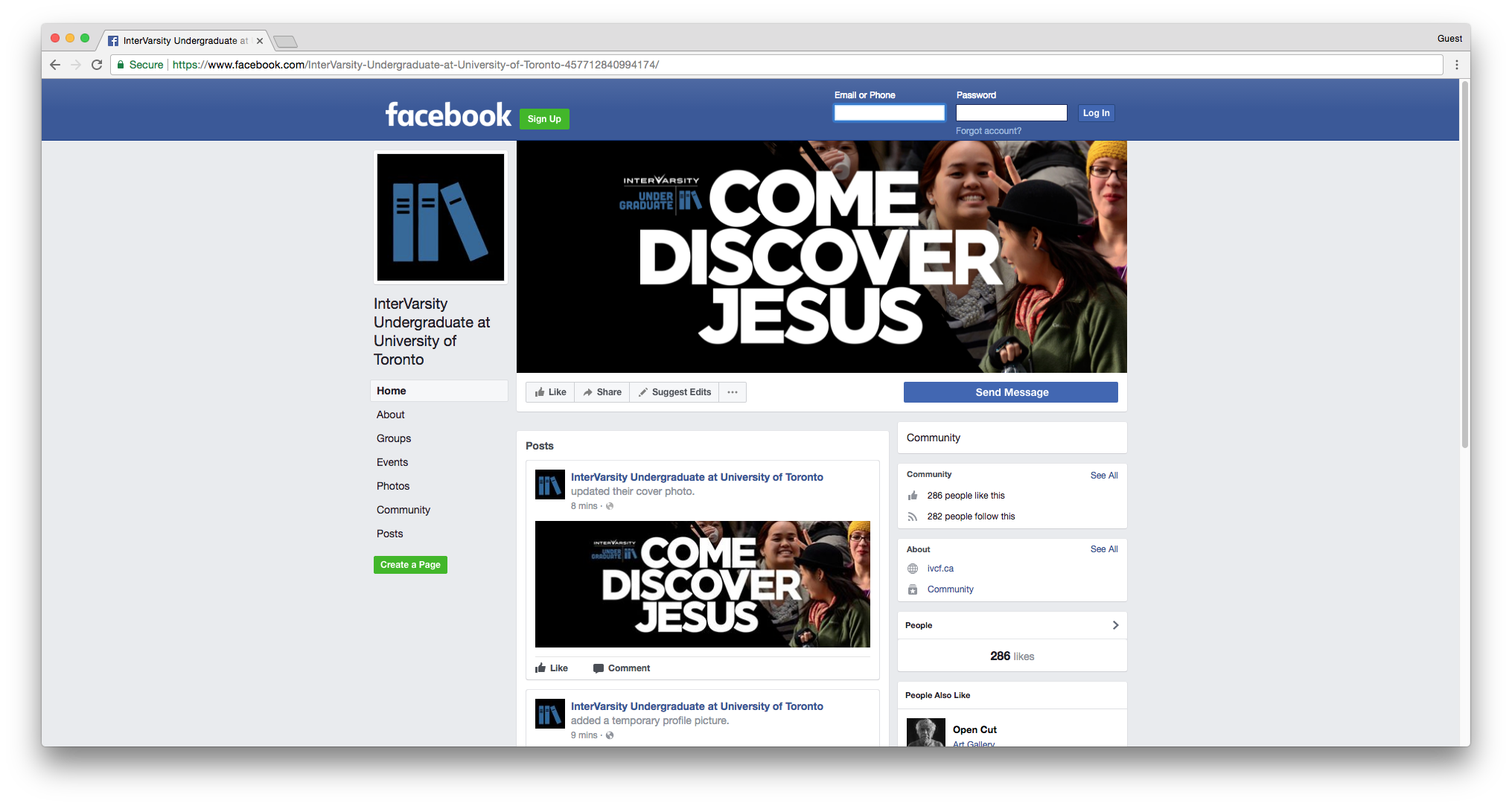 ---
NAMING CAMPUS PAGES
NAME: InterVarsity [insert ministry focus] at [insert school name/school name acronym]
EXAMPLE NAME: InterVarsity Undergraduate KCF at McMaster
ORGANIZATION TYPE: Community
ABOUT US: We create Christian communities on campus where students can explore, discover and deepen faith, develop friendships and make a difference in the world.
---
NAMING CAMP PAGES
NAME: Camp Name
EXAMPLE NAME: InterVarsity Circle Square Ranch Big Clear Lake
ORGANIZATION TYPE: Community
ABOUT US: One of nine InterVarsity Camps across Canada, we specialize in Christian summer camps for children and youth as well as outdoor education and retreat services.
---
PROFILE PICTURES AND COVER PHOTOS- CAMPUS/CAMP
Communications has designed cover photos and profile pics for you which:
• include the appropriate InterVarsity ministry logos (Pioneer Camp, Undergraduate, International Students, etc)
• are updated on a regular basis
• can be found in the downloads tab
You may replace the cover photo with a banner designed to promote a specific event. Remember:
• include the correct Inter-Varsity ministry logo (for multiple ministry events, use the national logo)
• take the banner down after the event has finished
Profile pictures and cover photos should follow the photo guidelines. If you choose to design your own, please make sure you adhere to the Style Guidelines. For questions, contact Communications.